​​​​​PRODUCTION AND QUALITY CONTROL
Industrial environments place great demands on equipment. Both mechanical stress and large temperature variations can make standard materials unsuitable.
Our own production makes it possible to create special solutions that meet the requirements for local customization, delivery precision and quality.
We create complete solutions for demanding conditions in defense and industry, based on fiber optic field cables. The advantages for such factory-configured solutions is that the work is carried out in a controlled environment by trained installers, and that the products are tested before they are dispatched.
In addition to standard products, we can offer customized products that are made according to the customer's wishes and needs.
​​​​​PRO BEAM
The PRO BEAM connector is an extreme robust connector. It can be used by anyone, almost anywhere. The plugs are water tight and can be used by unskilled personnel.
Foss Fiberoptikk buys quality components from TE and assembles in own production facilities in Drammen.  Due to local production, customer-specific solutions can be delivered at short notice. Typical delivery time for a system is one week. Contact our sales department for more information.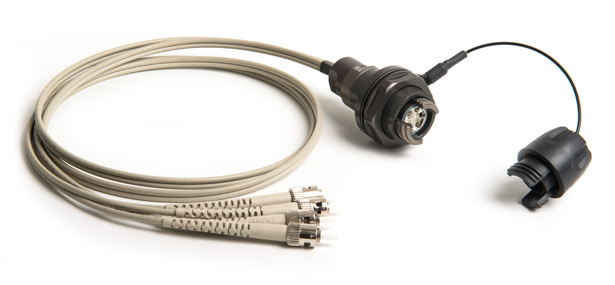 CABLE REEL
Made for heavy usage in rough environments. Lightweight, smooth operation and broad functional details make this reel top in its class.