HIGH QUALITY PRODUCTS
DESIGNED FOR EXTREME ENVIRONMENTS
Rough maritime environments require products with uncompromising quality. Wet and salty environments with mechanical stress and large temperature variations can make standard materials unsuitable. The products must also be easy to install and maintain.

Our designers and the flexible production facilities makes it possible to create special solutions that meet the requirements for customization, easy maintenance and high quality.

We build complete Plug & Play solutions for demanding conditions in defense, offshore and industrial environments, based on high-quality fiber optic cables and connectors. The advantages for such factory-configured solutions is that the work is carried out in a controlled environment by trained technicians, and that the products are carefully tested before they are dispatched to our customers.


PRODUCTS

IP-series
The IP-series is based on standard LC or MPO connectors. The connector housing ensures mechanical protection while at the same time protecting against exposed weather conditions. These connectors are normally used in temporary connections. Typical applications is in antenna towers or between containers. The IP-series delivers LC and MPO connectors in a protective IP68 housing. The IP-series is ODVA compatible. The IP-series delivers LC connectors or MPOs in a protective housing that provides an protection against dust and water certified at IP68. IP-LC has 2 fibers, while IP-MPO has 12 or 24 fibers.


ProBeam
The ProBeam connector is an extreme robust connector. It can be used by anyone, almost anywhere. The plugs are water tight and can be used by unskilled personnel. In ProBeam, the light beam from the fiber is broadened in a ball lens to a diameter that is substantially larger than in a normal contact. This technique is often referred to as Expanded Beam Technology. This makes them much less sensitive to dirt, while cleaning the contacts can be done without special equipment. ProBeam comes in two sizes that deliver up to 4 or 8 fibers. The system is designed and certified for military purposes, but is used in a number of contexts where impurities are a problem. The special lens contacts spread out the light over an area that is many times as large as traditional contacts. This makes them much less sensitive to dirt, while cleaning the contacts can be done without special equipment. Our ProBeams are terminated on OCC tactical cables and are often supplied on our cable reels


Harting HAN
The Harting Han is a robust fiber connector for industrial environments. It enables temporary connections with up to 24 fibers in one connector. A typical system consists of a cable with plugs at both ends. The ends are connected to the chassis connector which has the transition to standard fiber connectors. HARTING Han comes in different versions, based on the environment in which they are to be used. Harting HAN can be mounted on a long line of cables, but is mostly used with the industrial cables AICI and QFCI. They can also be combined with copper and fiber in the same contact. Hybrid versions that combines fiber and copper are also available.



Hawke series
The Hawke connector combines the strength of market leading connection range with the latest in Ex Fiber Optic specifications. It is designed to meet the latest BS EN 60079- 28:2015 standard for protection of equipment using fiber optics in explosive atmospheres. The FibreEx offers an easy-to-install solution that will keep the network running, even in the world's most arduous environments. Hawke series are nickel plated connectors for use in explosive atmosphere (ATEX) according to EN 60079-28:2005. The Hawke connector may be delivered as connector plug, connector receptacle or bulkhead receptacle. Both single-mode and multi-mode is available. A protective cover is included on all variants.


MTP/MPO Plug & Play solutions
Foss delivers both MTP and MPO multi-fibre connectors. MTP and MPO are compatible with each other, but have some differences in structure and MTP has some better attenuation properties than MPO for SM fiber. The MPO to LC Plug & Play solutions are offered as pluggable modules for a 1U or 3U frame. The 3U solution has a capacity of 288 connections, the 1U offers 72. All LC connectors are presented at the front, MPO at the rear. Trunk cables are available with 12 or 24 fibers and are delivered in customized lengths. The system can be specified with single-mode fibers or multi-mode category OM-3 and OM-4.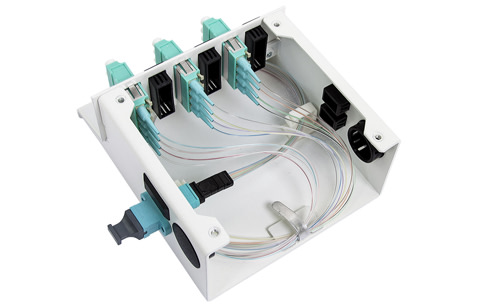 Cable reels
Our field drums are designed for handling fiber cables in temporary installations. The drums are lightweight, combined with high strength and manufactured in painted aluminum. They come in three sizes with capacity for 100, 250 or 500 meters of cable. All sizes have double flange for easy access to the inner-end and protected space for storing the contacts. The drums have brakes, fold-in swivel handles, and drums of the same size can be stacked in height. As standard, the drums are painted in military green RAL 6014, other colors available on demand.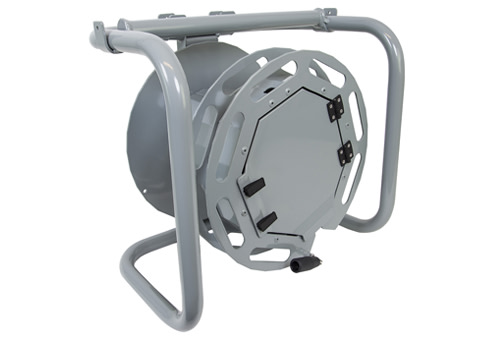 Read more about our solutions for: