RELIABLE FIBER OPTIC SOLUTIONS FOR SAFETY AND COMMUNICATION IN THE TRANSPORT SECTOR
Roads and railways place great demands on the network's reliability. The fiber optic equipment must withstand both mechanical stress an large temperature variations. This can make standard materials unsuitable.

Our designers and the flexible production facilities makes it possible to create special solutions that meet the requirements for customization, easy maintenace and high quality.

We build complete Plug & Play solutions for demanding conditions in defense, offshore and industrial environments, based on high-quality fiber optic cables and connectors. The advantages for such factory-configured solutions is that the work is carried out in a controlled environment by trained technicians, and that the products are carefully tested before they are dispatched to our customers.

PRODUCTS

FP-series patch panels
Foss FP-series patch panels are made with the highest accuracy for precise fitting and easy installation. All panels are tested according to both our own quality measures and international standards before they are sent to customers.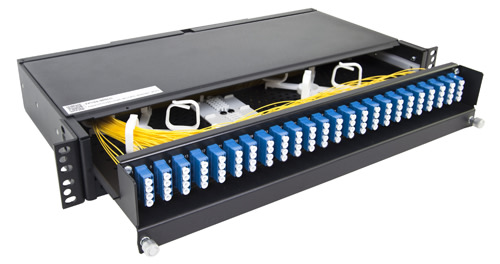 Accessories
The growth in optical fiber communication has led to an increased number of optical cables in the ODF. To preserve the intrinsic high quality of the optical fibers, a range of accessories are available. These include bend limiters to avoid critical bend diameters, horizontal cable guides to lead patch cords either side of the rack, plastic covers to avoid accidental snagging of connectors and many others.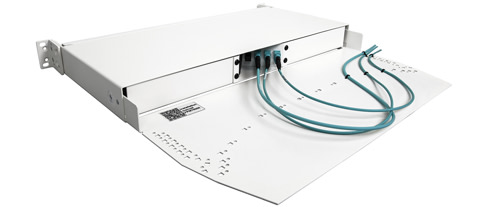 Patch cords
All Foss patch cords are future proof, extremely precise and of the highest quality. They are available with both single-mode and multi-mode optical fibers and are color coded for easy identification. All patch cords are tested according to our own quality measures and international standards before they are sent to customers.
IP-series
The IP-series is based on standard LC or MPO connectors. The connector housing ensures mechanical protection while at the same time protecting against exposed weather conditions. These connectors are normally used in temporary connections. Typical applications is in antenna towers or between containers. The IP-series delivers LC and MPO connectors in a protective IP68 housing. The IP-series is ODVA compatible. The IP-series delivers LC connectors or MPOs in a protective housing that provides an protection against dust and water certified at IP68. IP-LC has 2 fibers, while IP-MPO has 12 or 24 fibers.

MTP/MPO Plug & Play solutions
Foss delivers both MTP and MPO multi-fibre connectors. MTP and MPO are compatible with each other, but have some differences in structure and MTP has some better attenuation properties than MPO for SM fiber. The MPO to LC Plug & Play solutions are offered as pluggable modules for a 1U or 3U frame. The 3U solution has a capacity of 288 connections, the 1U offers 72. All LC connectors are presented at the front, MPO at the rear. Trunk cables are available with 12 or 24 fibers and are delivered in customized lengths. The system can be specified with single-mode fibers or multi-mode category OM-3 and OM-4.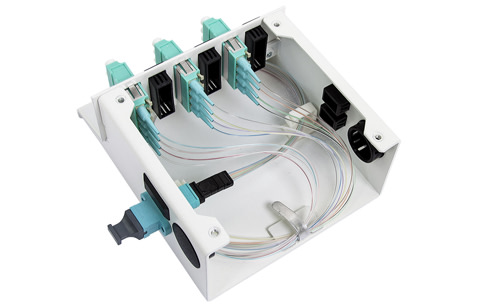 Wall boxes
Wall boxes from Foss are manufactured from aluminium and are painted with white powder coating. The boxes are available in a variety of configurations and sizes adapted to many different shapes. The wall boxes are for indoor installation. Some of them are designed for mounting on a DIN-rail. Waterproof wall boxes can be supplied empty, with adapters and pigtails or Pre-terminated with cable as required. Both single-mode and multi-mode variants exist.

Read more about our solutions for: