Plug & Play
CABLING VIA DISTRIBUTION POINT
Cabling from wall box, via distribution point, to panel in technical room. A 2-fiber, pre-terminated, white subscriber cable is used from the wall box to the distribution point. From the distribution point to the panel in the technical room, an MPO cable with 12 or 24 fibers is used. The transition from LC/PC to MPO in the distribution point is built into a BUDI wall box. Here cables enter via a slotted opening in the bottom and are plugged internally into the BUDI wall box.
MPO is a multi-fiber connector where you can easily connect 12 or 24 fibers in one connector. When using a 12-fiber MPO cable, you can connect up to 6 subscriber wall boxes to the distribution point. With a 24-fiber MPO cable, up to 12 subscribers per distribution point. Excess length of subscriber cable must be handled at the distribution point in a coil management frame. Excess length of MPO cable is handled in the technical room either with storage units in the panels or in a coil management frame. In the technical room, the patch panel will handle the transition from MPO to LC/PC, and you will have LC/PC duplex connectors in the front panel.

The subscriber wall box with pre-terminated cable is of the same type as for the solution for direct cabling. Since a 2-fiber cable with connectors is used, the Plug & Play solution can be easily used in both 1-fiber and 2-fiber communication solutions.
Need any help or want to know more?
Feel free to contact us if you need any help choosing the right product for your organization.
Phone: +47 32 21 08 00
Mail: info@foss-as.no
SUBSCRIBER WALL BOX
The subscriber wall box with pre-terminated cable is delivered on a cardboard box with a drum and the wall box connected to the inner end of the cable. After measuring the cabling lengths, you can order different lengths of cable on the drums. An excess length must be added in the order. This excess length is handled in the technical room either with storage units in the panels or in a coiling management frame.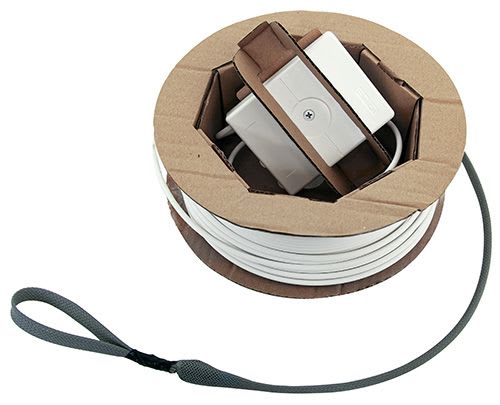 WALL BOX FOR THE DISTRIBUTION POINT
BUDI-1S wall box prepared for Plug & Play. The DIN Mini inside comes fully connected with MPO and are mounted on the bracket inn BUDI-1S. The cables are taken into a entry slot in the bottom for easy intake of pre-terminated cable.
MPO CABLE
MPO connectors usually have 12 or 24 fibers in each connector. You should measure the length and add some extra margin.
TECHNICAL ROOM
Panels and modules
In smaller buildings where the need for capacity is lower, this small wall cabinet is an alternative to a rack. Inside the fiber cabinet it is mounting profiles inn aluminum, this gives an unique flexibility. The mounting profiles can be adjusted in depth and adapted to individual needs. In the cabinet, you can use additional equipment such as bend limiter, routing guide, power outlets, shelves etc.
SOLUTION FOR EXCESS LENGTH OF CABLES
Shelves and storage units, for excess length of cables, are mounted in under the panel.
TOOLS FOR ASSEMBLY
One-Click connector cleaner used for professional cleaning of optical connectors. Over 500 cleanings per unit (One-Click). Efficient cleaning of optical connectors can prevent losses and reflections which in turn can cause communication errors. For Plug & Play, this is all the fiber tool you need. An end face fiber microscope can also be used to check the surfaces of the contacts.