FPD66 is a compact wall box for DIN rail and wall mounting of fiber optic cables. Despite the modest dimensions of the box, the fiberoptic bending radius and the installers ability to do work in the box, is taken care of. To ensure easy assembly, the adapter plate and the lid can be removed.
The box has a round cable entry and two slots for MPO adapters on each side. It can be delivered with pre-mounted adapters, adapters and pigtails, or fully mounted with AXAI, QXXI or micro fiber optic cables.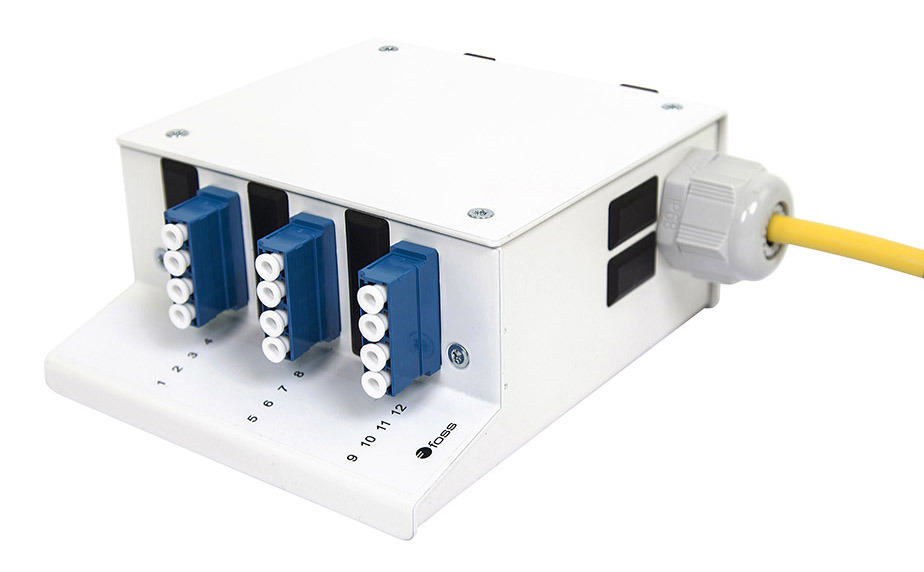 The DIN rail clip is attached to the rear of the box (on the short side). For mounting directly on the wall, the wall bracket FPD66200 is attached to the side of the box. This makes it possible to mount the box over a recessed outlet box and provides hidden wiring, often preferred in an office environment.

FPD66 with MPO
Like the 19 "panel FP65, the FPD66 can be pre-mounted with a variety of MPO fan outs. This makes it a plug and play solution. When using LC Quad adapters, the box has capacity of 24 fibers. The MPO adapters can be mounted on top or on the bottom of the box.